Karov-Qareeb קרוב قريب
Jewish-Muslim Thinktank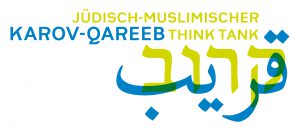 The Jewish-Muslim thinktank Karov-Qareeb was initiated in early 2019 by the Ernst Ludwig Ehrlich Studienwerk (ELES) and the Avicenna Studienwerk, respectively the Jewish and Muslim federally-funded scholarship funds in Germany. It operates under the umbrella of Dialogueperspectives. Discussing Religions and Worldviews, an initiative of the Leo Baeck Foundation.
The participants are young Jews and Muslims who have already demonstrated outstanding academic achievement and societal engagement. They seek to help shape the present and future of our society.
The aim of Karov-Qareeb is to be a sustainably growing and effective platform for young Jews and Muslims. The project offers a space in which the participants can formulate their own desires and needs, explore the proximity of Jewish and Muslim lived realities, and grapple with topics and questions they have chosen themselves. Karov-Qareeb empowers Jews and Muslims together, something that is urgently necessary in light of current societal and political developments.
The concept of the thinktank is based on a democratic/participatory approach. It is fundamentally oriented, free from any institutional needs, along the interests of the participants and grants them the greatest possible leeway to develop the programme and project for themselves. The discussion and event topics and the development of the chosen formats are entirely in the hands of the participants.
Karov-Qareeb seeks to reverse the performative pressure placed on Jewish-Muslim initiatives, only including the broader public when doing so promises to be productive for the work of the thinktank. Sustained empowerment emerges from the development of long-term relationships. They are indispensable as the foundation for collaboration and an in-depth examination of a wide range of topics within the Jewish-Muslim dialogue. The thinktank understands itself not only as a "safe space" but also as a "brave place". The participants should be strengthened in their ability to confidently position themselves in public discourses utilising the insights and results of their joint work, to be visible with their demands and concerns, and to be effective in taking part in shaping society as a whole.
We contribute to consolidating Jewish-Muslim solidarity by concentrating even more on the construction of local and regional, but also national and international networks. We send our participants as multipliers where they are needed and connect them with the people who they need in order to become effective actors in society, politics, and in their religious and other communities. At the same time, the thinktank collaborates with activists, academics, politicians, and civil society actors on societally-relevant topics and questions.
More …