DAGESH. Jewish Art in Context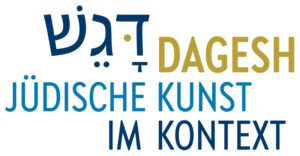 Contemporary Jewish life in Germany is diverse. This diversity can also be seen in the artistic output of young Jews. DAGESH* makes this diversity visible without necessarily assuming the presence of a harmonious Jewish pluralism. It seeks the creative experimentation with and enactment of something new.
DAGESH was founded in 2016 as an ELES initiative. In 2020, DAGESH was spun off and is now an independent programme. DAGESH operates at the intersection between cultural and political education. As a platform and network, DAGESH supports young Jewish artists and provides a space to voices and expressions attempting to redefine the contemporary and future-oriented Jewish self-image and confidence in Germany.
DAGESH support innovative art projects and multimedia artistic collaborations, raises awareness in the established art world for Jewish perspectives and Jewish contributions, and forges a creative exchange between different Jewish and non-Jewish, particular and global, artistic forms and traditions. Its goal is to fill the gap that exists in relation to contemporary Jewish life via the artistic works and discussions of different Jewish perspectives and positions on our society.
"DAGESH on Tour" is a DAGESH programme oriented toward young people. The project raises awareness and sensitivity among young people for the Jewish life of today, giving them the chance to have direct conversations with Jewish artists. The workshops are carried out at schools and are offered in collaboration with other educational institutions. Through encounter and exchange, "DAGESH on Tour" imparts knowledge, shows lesser-known narratives of Jewish life, and deconstructs stereotypes, prejudice, and anti-Semitism. Its goal is also to set into motion communication processes for a pluralistic community and society.
DAGESH. Jewish Art in Context is made possible by funding from the Federal Ministry of Education and Research (BMBF).
*The Dagesh, a point, a small square at the centre of letters in the Hebrew and Yiddish alphabets has no inherent meaning of its own. It can, however, change the meaning of words by shifting and intensifying the emphasis. Art seeks the same: to emphasise certain features and to shift topics and meanings.
More …